Workshop Wednesday: Make Business & Learning Objectives Simple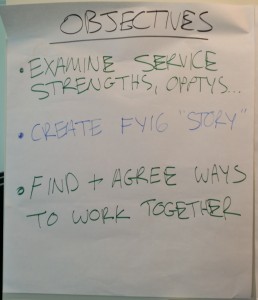 Each Wednesday we post a photograph that illustrates some of our work.
This one shows how concise and business and learning objectives should be for a compelling group experience. Much of our experience design work occurs on the front-end helping clients get clear what their true needs and objectives are, and then crafting related learning objectives to pursue at the same time. If you're going to ask people to participate in a meeting, event, workshop, off-site, or summit, it's best to know why, declare that, then design the experience to suit.
Check back next Wednesday for another perspective on how we work.